Love's Labor's Lost
A 90-minute musical show about love, nature, and Yosemite in 1969
For all ages and all creatures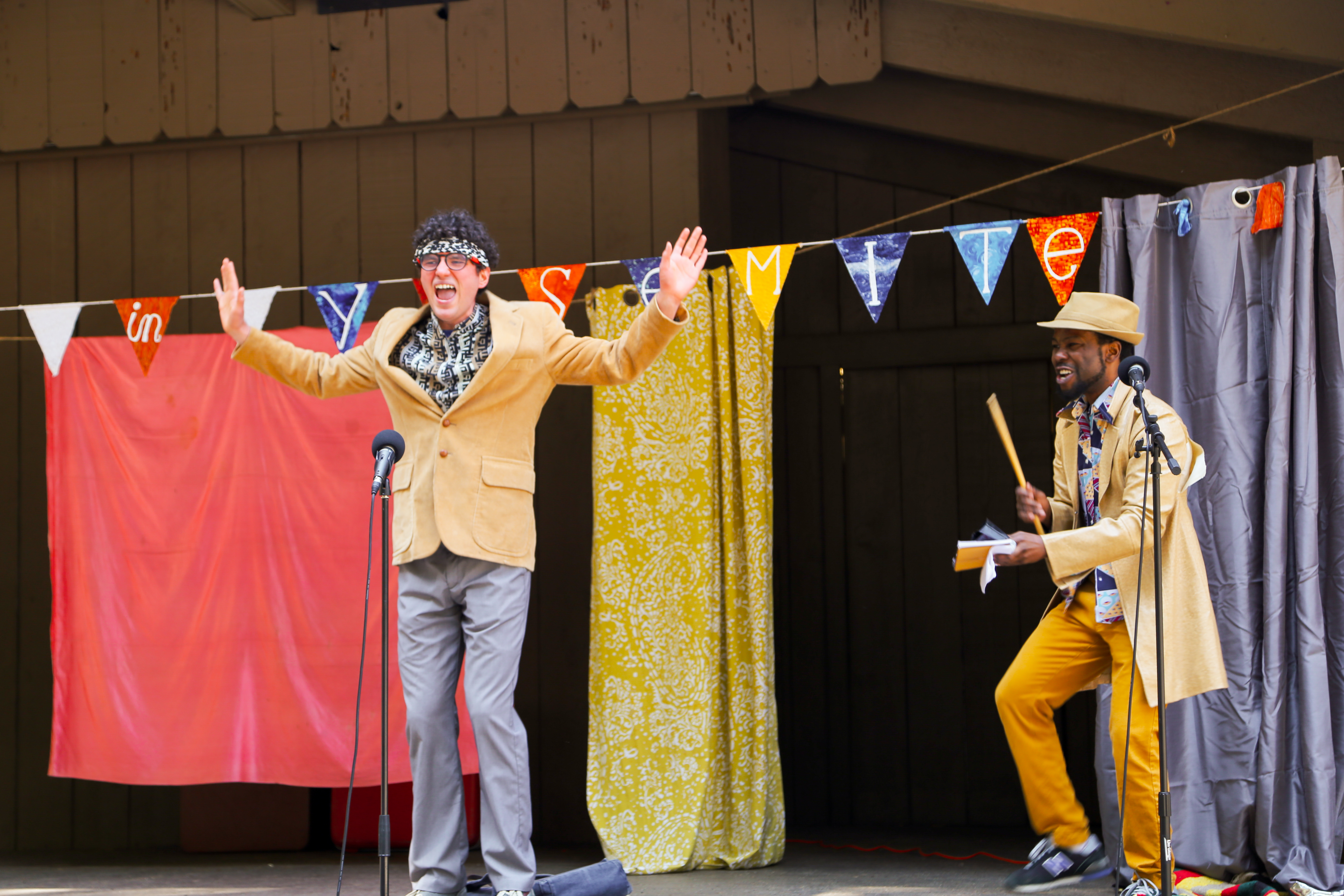 Our 2022 show was uniquely adapted for Yosemite National Park, based on Shakespeare's Love's Labor's Lost, and set in 1969 & 1970, with groovy music and costumes, and an evocation of the first Earth Day. Read more about the process of putting it together here! & Read more about the concept here!
Love's Labor's Lost was performed in Yosemite's Curry Village Amphitheatre, April 22-24, 2022
In addition to the live show, we released a film of the show that pulls together live footage as performed in Curry Village, on-location scenes shot around Yosemite, and reflections from the cast and crew: check it out here!
Digital program of the project, with show info, bios, and pictures, here: llldigitalprogram.pdf
Cast:
Rosaline: Sofia Andom (UC Merced student)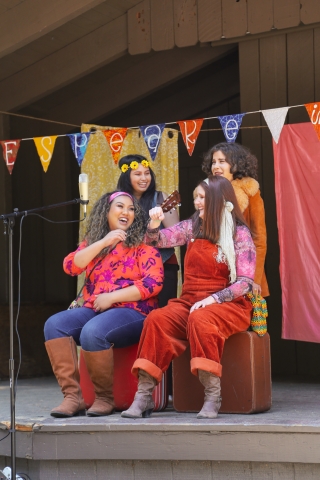 Princess: Bethy Harmelin
Katharine: Cat Flores (UC Merced student)
Maria: Bella Camfield
Berowne: Tonatiuh Newbold (Yosemite Hospitality)
Ferdinand: Christian Michael Smith (UC Merced Post-Doc)
Dumaine: Andrew Hardy (UC Merced alumnus)
Lou: Tawanda Chabikwa
Custard: Anne Schwartzberg (UC Merced student)
Ranger Marion: Marion Roubal (NPS)
Production team for Love's Labor's Lost:
Adaptors and Directors: Katie Brokaw and Paul Prescott (UC Merced faculty) 
Music Director: Tonatiuh Newbold
UC Merced Student Team:
Designers: Mahea LaRosa and Grace Garnica
Assistant Directors: Isaac Gállegos Rodriguez, Hannah Maulden, and Shabnam Shirzadi
Costume and Prop Associates: Paja Yang and Elizabeth Aviles
Stage Manager: Julissa Murillo 
Photography and Graphics: Darah Carillo Vargas
Social Media Coordinator: Cara Hill
About the show (Directors' Notes):
In spring 2020, we planned to honor the 50th anniversary of Earth Day with this show. Rehearsals began, COVID arrived, and we feared our labors might well be lost. It has been a difficult two years, and we return to the park with, in the words of the play "honest words [that] best pierce the ear of grief."
This show is set in 1969 and 1970. It reworks Shakespeare's comedy to imagine two bands on songwriting retreat in Yosemite who fall in love with each other and with a world in urgent need of protection. In Shakespeare's original play, a King and his lords swear off love­—and even speaking to women—for three years in order to focus on their studies; in ours, the "Kings of Navarre" band swears off love for three months to focus on their music (spoiler alert: neither group is successful). In the summer of 1969, folks gathered at the Harlem Cultural Festival and on a farm in Woodstock to celebrate a new era of wonderful music.
Music festivals weren't the only gatherings of note that summer, as our show represents. The youth movements of the late 1960s—fueled by music, anger, and hope—catalyzed that first Earth Day in 1970, and that those April 22nd gatherings prompted President Nixon to establish the Environmental Protection Agency later that year. The passage of several US congressional acts to safeguard the creatures of our precious planet, human and non-human, from pollution and extinction followed: updating the Clean Air Act in 1970, passing the Clean Water Act and Endangered Species Act in 1972 and 1973.
This was also an era when Latino farmworkers were protesting pesticide exposure and low wages, when Black Americans continued fighting for their rights, when LGBTQ Americans rioted at Stonewall Inn (1969) and organized the first Pride parade (1970), and when people across the globe cried out for peace. These were labors of love, for each other and for the planet: our show is inspired by the youth of yesterday, the "Boomer" generation. We also honor the youth of today, who march and sing and organize for a safer and more just future for us all. May their labors not be lost.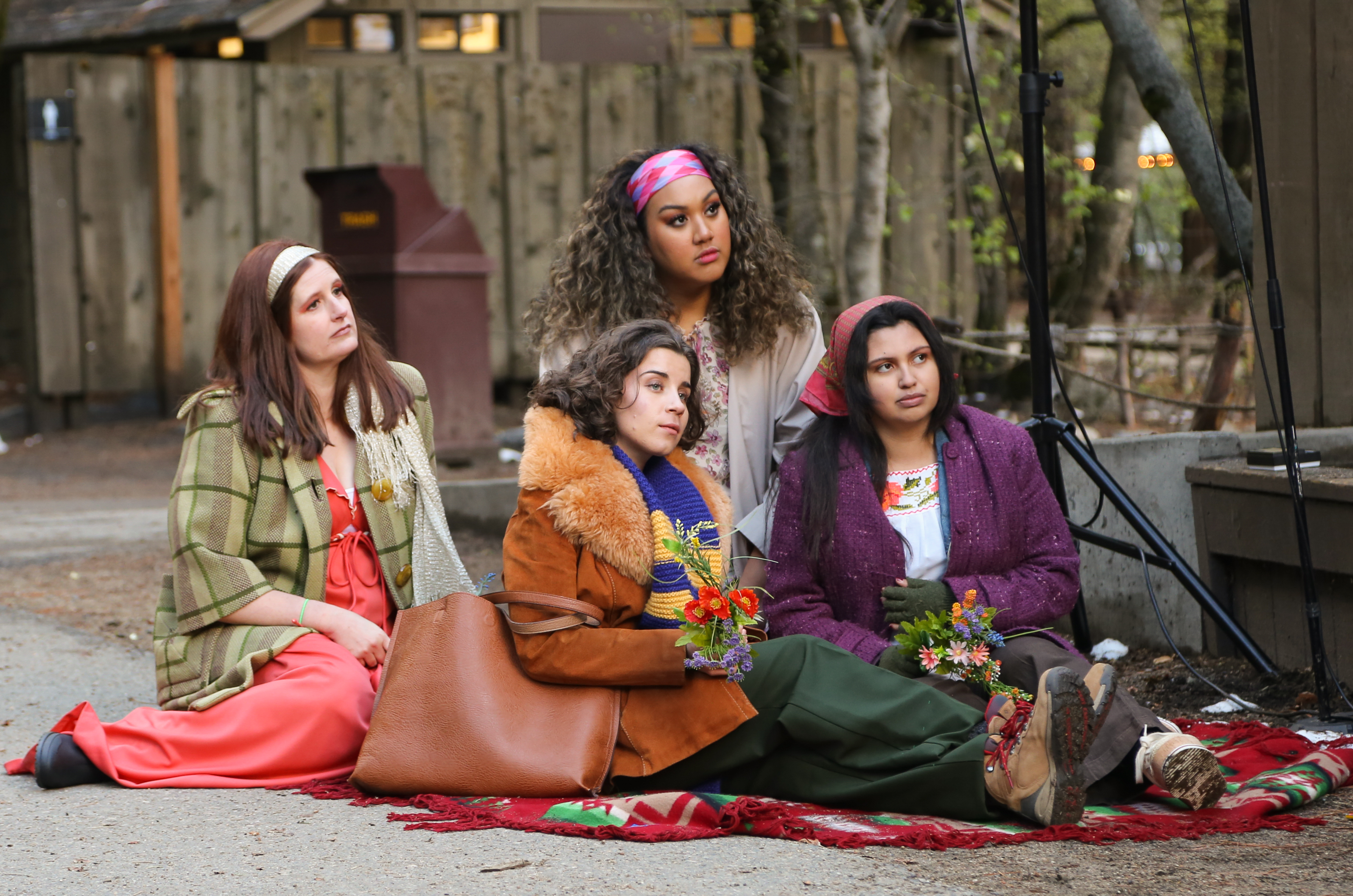 For the film:
Director of Photography: Shawn Overton
Sound Director: Will Darpinian (UC Merced student)
Film Editors: Martin Arredondo, Will Darpinian, Diangelica Gomez, (UC Merced students) 
Support in the Yosemite:
Scott Gediman, NPS Liason
Erin Callahan, Yosemite Hospitality Executive Assistant
Bryan Hammill, Curry Village General Manager
Sponsoring partners: UC Merced, Yosemite National Park, Yosemite Hospitality, the Mortimer & Mimi Levitt Foundation, and Misfit Press
Special thanks: GB Blackmon and Playhouse Merced, Jayson Beaster-Jones and Jenni Samuelson and the UC Merced Global Arts Study Program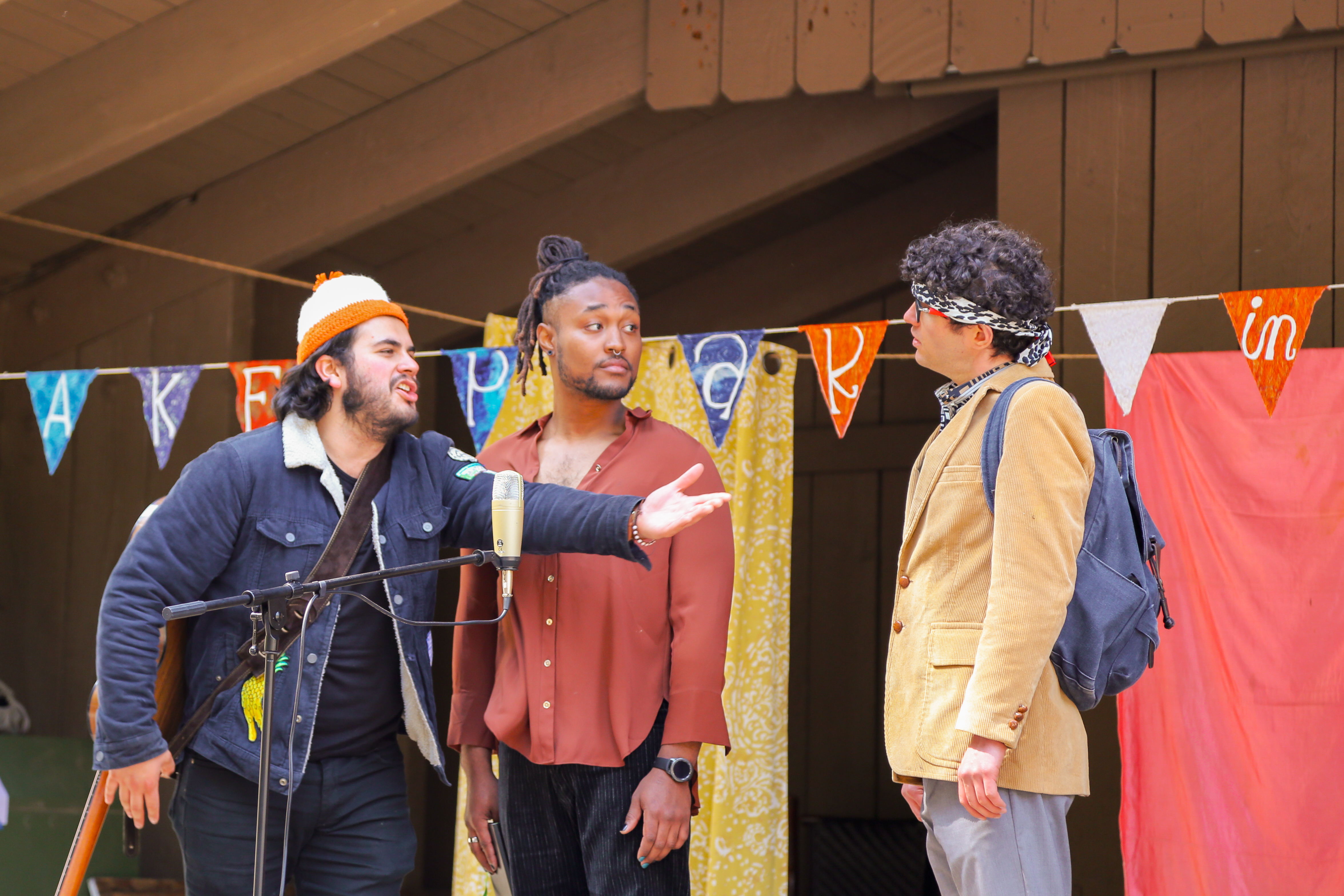 Photos by Grace Garnica, Darah Carillo Vargas, and William Serg George