Archive discovery in Yosemite presents fascinating counterfactual
When two Shakespeare professors stumbled upon an amphitheater in the woods of Yosemite in 2016, they had an idea. Katherine Brokaw of University of California Merced and Paul Prescott of the University of Warwick (UK) imagined a free Shakespeare festival in Yosemite, one that would bring America's Shakespeare in the Park tradition to perhaps the most famous park of all. With the help of the park service and their home universities, Shakespeare in Yosemite was founded in 2017 to produce free productions of Shakespeare's plays for Earth Day and Shakespeare's birthday each spring. 
When Brokaw and Prescott founded Shakespeare in Yosemite, they were curious to know if Shakespeare had ever been performed in the park before. A trip to the Yosemite National Park archives in El Portal in September 2019 revealed a surprising discovery, one unknown to both the Park and to the Shakespeare world. In a box of archived letters from the 1930s, they found evidence that Shakespeare in Yosemite was almost founded about 90 years ago, and learned of perhaps the greatest theatre production that never happened.
In 1933, the world's most famous stage director was an Austrian Jew named Max Reinhardt. He was preparing to leave for California as Nazism and anti-Semitism spread across central Europe. The University of California had hired him to teach summer theatre classes. And that gave some folks at Camp Curry an idea: what if Yosemite hired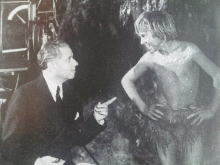 Reinhardt to direct a massive production of Shakespeare's A Midsummer Night's Dream, with a cast of hundreds, and perform it in front of Yosemite Falls? A photographer was sent out take pictures of Yosemite Valley—Reinhardt's potential "set"—and Reinhardt named a price. Mayors, California CEOs, University of California administrators, and supervisors in the park were ready to hire him. And there the archive letters stopped. We don't know why the production didn't happen, though we do know that Reinhardt staged a Dream in the Hollywood Bowl in 1934, and that production was turned into a major MGM film. But had he accepted Yosemite's offer, the history of Shakespeare—and theatre—in America's national parks might have been very different!
While it hasn't been around for decades, today's Shakespeare in Yosemite is now an annual tradition. It returns this April for its fourth production: a free, musical, family-friendly adaptation of Love's Labor's Lost, which will be presented in Curry Village on Friday April 24th at 5 pm, on Saturday April 25th at 10 am and 5 pm, and on Sunday April 26th at 5pm. The 90-minute show is designed to be enjoyed by all: it is fun, full of music, and specifically about Yosemite. The cast features several Yosemite employees singing and acting alongside UC Merced students and faculty.  In it, two bands go on songwriting retreats in the Park, determined to focus only on their own art. Instead, they discover a world that needs their music, and their love. We hope you will join us for a celebration of nature, harmony, and connection.