Why Shakespeare in Yosemite?
When you first approach Yosemite National Park, everywhere you look is so picturesque that it is almost overwhelming. It isn't hard to get lost in the beauty of nature throughout your visit, whether you're first entering the tunnel into the valley, driving up next to El Capitan and feeling it loom over you, or even hiking and finding a waterfall as you turn a corner. While it may feel accurate to say Yosemite National Park lends itself to pictures and peaceful moments, the park goes beyond tourism and fun weekend activities. In its natural beauty, Yosemite is a space for people to connect with the earth through outdoor excursions, learning about the environment, and even art.
There is a rich history of live theatre in Yosemite, dating back to the 1930s and taking place in the Curry Village Amphitheatre - that very same amphitheatre was scheduled to host Shakespeare in Yosemite's production of Love's Labor Lost in 2020 (before it had to be cancelled due to the pandemic: it will now be performed in Spring 2022). Founded in 2017 by UC Merced English professors Dr. Katherine Steele Brokaw of UC Merced and Dr. Paul Prescott (at the time, Prescott was at the University of Warwick, UK), Yosemite Shakes helped rekindle a long legacy of art and live theatre through short, fun, and accessible productions. These productions are 90 minutes long, adapted with plenty of music, and have a special focus on addressing relevant issues around environmentalism and the natural beauty of the world around us. Performed throughout Earth Day weekend, Yosemite Shakes plays celebrate and honor both Earth Day and Shakespeare's birthday each April.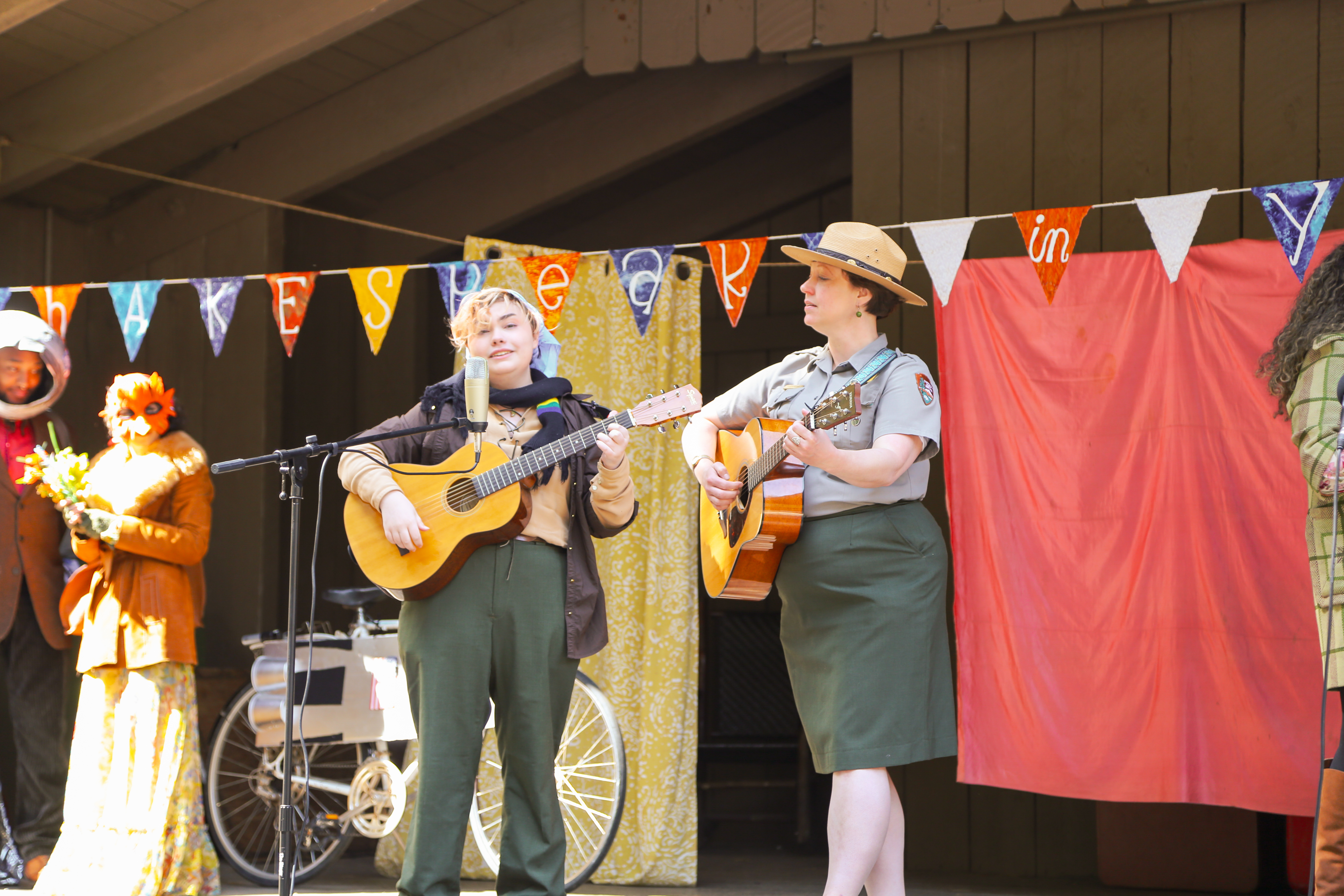 Photo by Grace Garnica
In a recent interview with Yosemite Shakes, Scott Gediman, a Park Ranger of 31 years with the Public Affairs Office of Yosemite National Park stated, "Live theatre has been a tradition in Yosemite, and it's been great the last few years with live performances in the park that are open to all visitors." This appreciation of the arts and the park's history is one of the reasons why Shakespeare in Yosemite is so supported by park staff. Yosemite Shakes advocates for ecological and forest preservation through scripts, music, characters, and even the production sets themselves (which are often simple backdrops, minimal props, and the park as it is). Artists have advocated for Yosemite National Park for years. Some of Yosemite's most well known advocates include Ansel Adams and John Muir (Muir's writings feature in the 2017 show and in the 2021 filmed production, brought to life by Muir portrayer Lee Stetson). 
During the current pandemic, Shakespeare in Yosemite has had to shift its live performances to a virtual experience. In 2021, Yosemite Shakes is releasing Imogen in the Wild in partnership with Cymbeline and the Anthropocene project (a partner since 2019). This production was filmed throughout Yosemite and Merced. The cast and production team of Imogen in the Wild is made up of UC Merced students, Park Rangers and Yosemite employees, a few professional artists, and community members; this is the case for all Yosemite Shakes productions. Making these productions happen each year is yet another way that a partnership between the national park and UC Merced makes sense. This partnership already involves bringing youth and school groups from the Central Valley to the park; cutting edge scientific, social scientific, and humanistic research through the Sierra Nevada Research Institute; and preservation and education outreach through the Yosemite Leadership Program. 
All of these efforts serve the overall ecological education goals and ultimately the mission of the National Park Service. Jamie Richards, another Park Ranger working in the Public Affairs Office with Scott Gediman, explains that the park and its employees are "not only working to protect and share the stories of Yosemite within the park," but they are also prioritizing "going out into our communities and bringing the park to the people" through the many initiatives they offer in an effort to make the park more accessible and equitable. Another way Yosemite Shakes helps make this possible is through writing in specific roles that Park Rangers can act in as themselves. Shelton Johnson and Jess Rivas, two Park Rangers, have starred in Yosemite Shakes productions in uniform alongside the rest of the cast. This year's Imogen in the Wild has a special scene that was written specifically for Yosemite Park Rangers that is both a whimsical and important addition to the production - make sure to keep an eye out!
Yosemite National Park has various approaches to ecological education and preservation with accessibility and equity in mind, some of which include elementary school visits through Every Kid Outdoors. This initiative allows every 4th grader and their families to have free access to national parks for an entire year. In addition to Every Kid Outdoors, there are also walks and talks with park rangers, Earth Day educational booths which include environmental biologist talks, painting or watercolor classes, Ansel Adams photo workshops, or experiencing live theatre. There are even free transportation opportunities for visitors to utilize throughout the year. As Jamie Richards has so aptly shared, "When you can draw the bridge between preservation, conservation, and art, it opens conversations, and it opens the door for people."
With the continued push for equitable access to Yosemite National Park, one has to wonder where this conversation will lead. While a filmed production incites hope and excitement about furthering Yosemite National Park's and Shakespeare in Yosemite's reach across state and international lines, we cannot forget those in our community who see the natural beauty of Yosemite as much more than merely a place where people escape for inspiration to create art, clear minds to tackle the next month at work, or any of the other ways we like to use this place. We must consider the ways we can acknowledge, support, and advocate for Yosemite Valley's indigenous population and their rights to this space, this land, and these stories.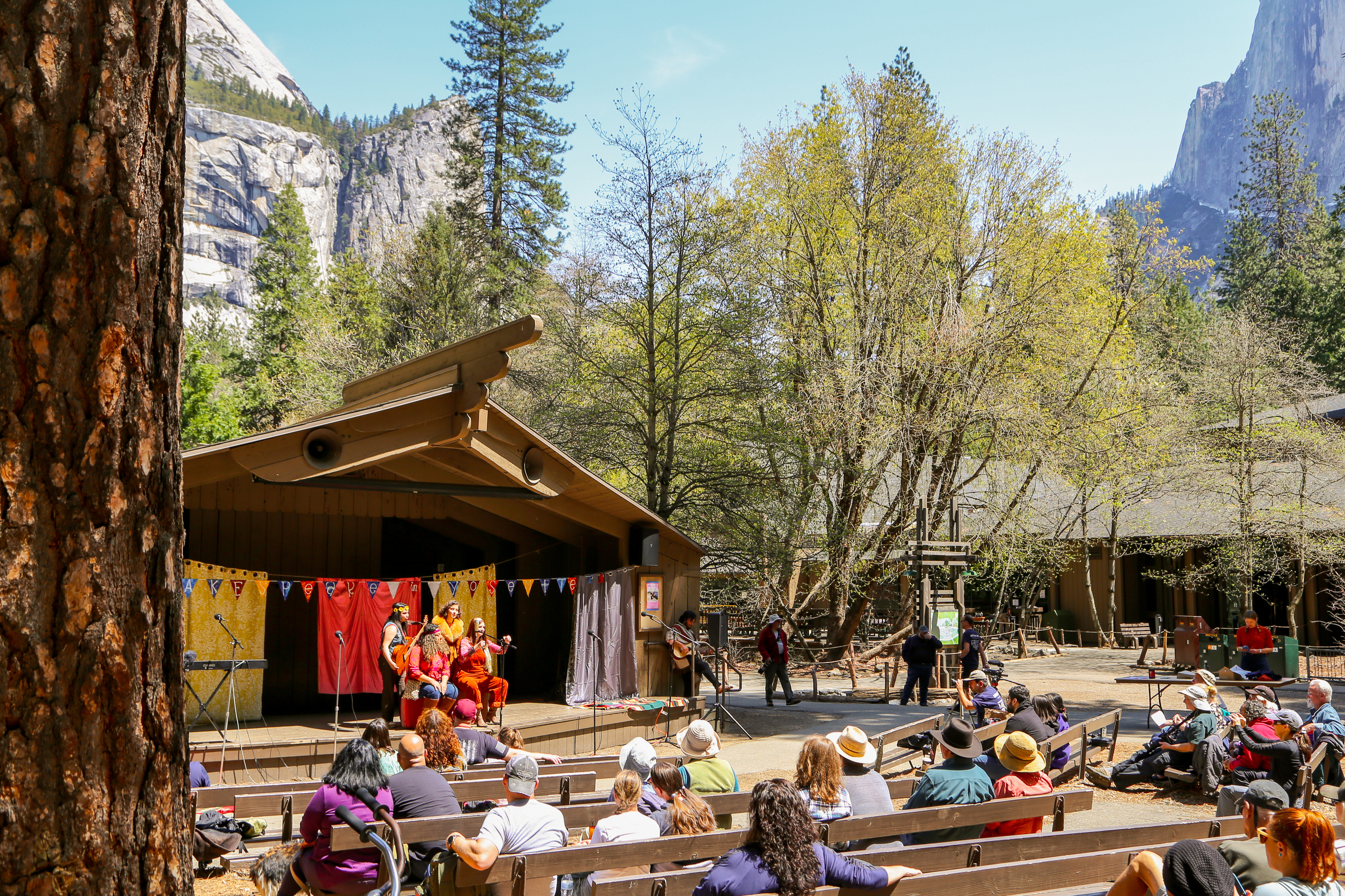 Photo by Darah Carillo Vargas
In 2018, Yosemite Shakes worked with Tony Cabezut, a South Sierra Miwok man who is keen on preserving the endangered language spoken by his mother and ancestors. He taught the cast a number of Miwok words that were incorporated into the script, explaining the importance of knowing the words given to everything from waterfalls to Half Dome by the area's first human inhabitants. Every Yosemite Shakes production includes an acknowledgment of the many tribes who have long called this land home. We were grateful to work with South Sierra Miwok tribal member and Yosemite ranger Emily Dayoff in Imogen in the Wild (she is featured in the ranger scene and also consulted on the project), and we hope to partner with members of these tribes more in the future to center the presence and stories of indigenous people.  See our education page about the South Sierra Miwok, with links to further resources, here.
--Essay by Monica Perales, UC Merced alumna and Imogen in the Wild project researcher